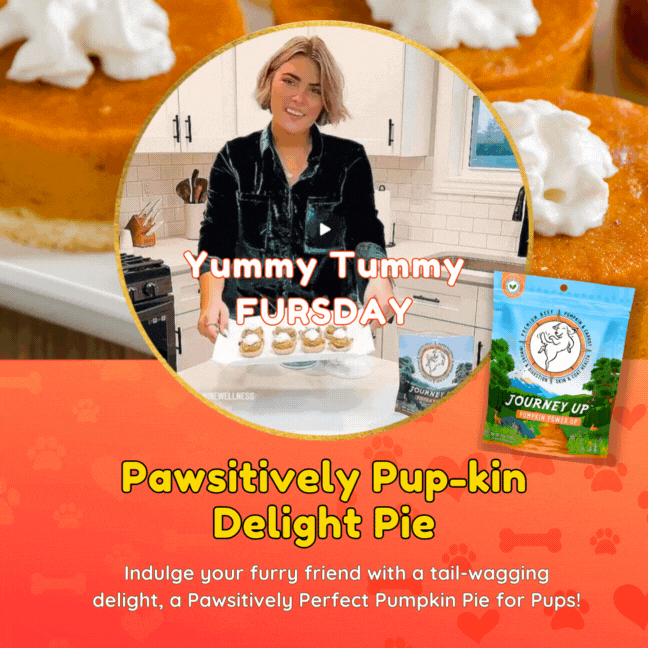 Treat time just got a whole lot sweeter with our 
Pawsitively Pup-kin Pie for Pups! 🎃🐶
Whip up this tail-wagging delight and watch your furry friend's eyes light up with joy!
Ingredients:
♥  1 3/4  cups almond flour
♥  3/4  cup unsweetened applesauce
♥  1  banana
♥  3/4  cup unsweetened pumpkin puree
♥  1/2  cup HappyTails Journey Up Pumpkin Power Up treats finely chopped.
♥  OPTIONAL: Low-fat plain yogurt for topping
Instructions:
1. Preheat oven to 350°F.
2. For the crust: In a mixing bowl, mix the flour and applesauce until a dough ball forms. Divide the dough into 24 equal-sized pieces. Press each ball into the wells of a mini muffin tin and bake for 8 minutes or until just starting to color. Let cool before removing from the pan.
3. For the filling: Peel and mash the banana in a large bowl. Stir in the pumpkin puree and our Pumpkin Power Up Journey Up treats. Spoon on top of the crust.
4. Top with yogurt.
♥ Bone Appetit ♥
Sample block quote
Praesent vestibulum congue tellus at fringilla. Curabitur vitae semper sem, eu convallis est. Cras felis nunc commodo eu convallis vitae interdum non nisl. Maecenas ac est sit amet augue pharetra convallis nec danos dui.
Sample paragraph text
Cras suscipit quam et turpis eleifend vitae malesuada magna congue. Damus id ullamcorper neque. Sed vitae mid a cosmo pretium aliquet an sedo delitos. Pellentesque nulla eros accumsan quis justo at tincidunt lobortis denimes loremous. Suspendisse vestibulum lectus in lectus volutpat, ut dapibus purus pulvinar. Vestibulum sit amet auctor ipsum. Proin molestie egestas orci ac suscipit risus posuere loremous.