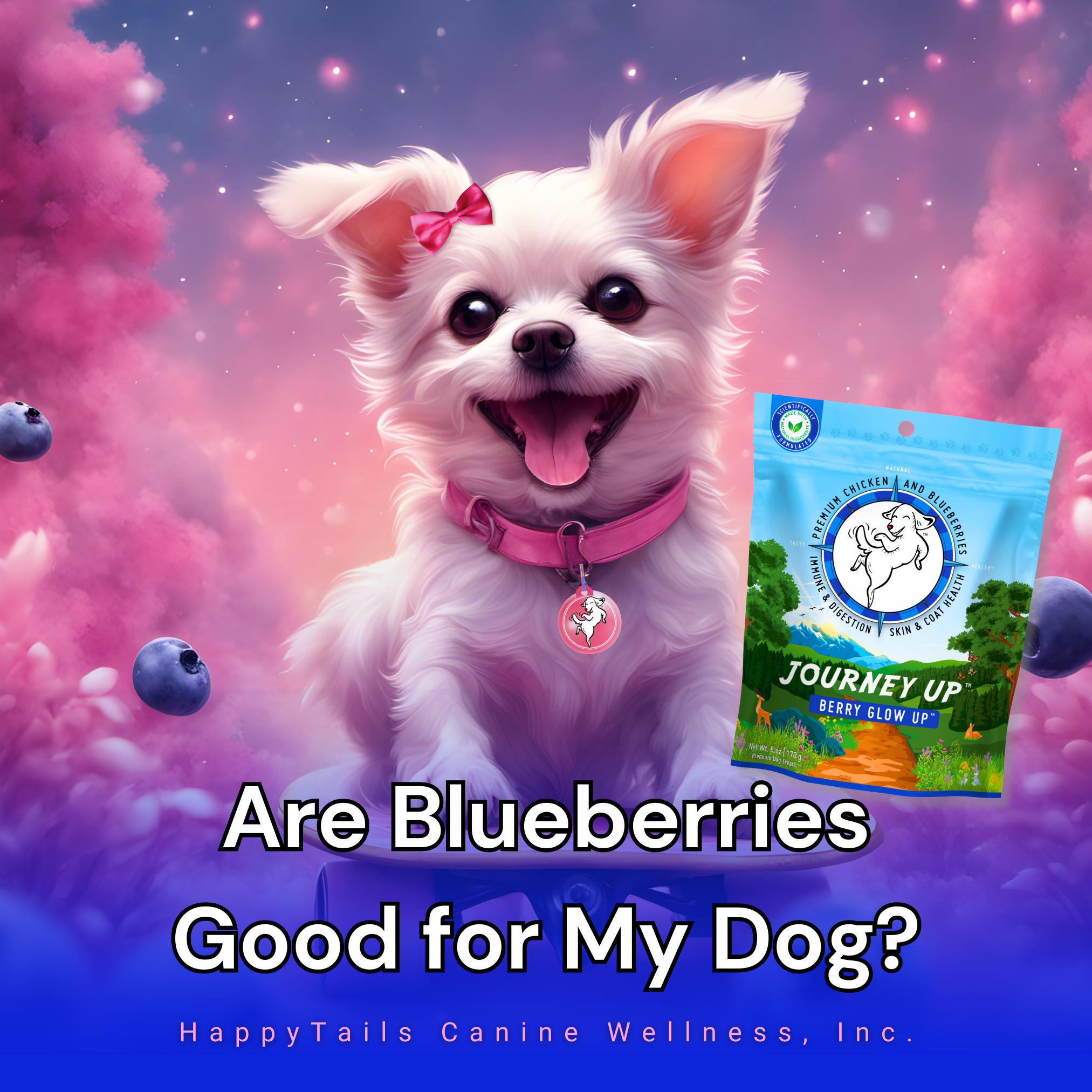 Blueberries are remarkable superfoods that deliver important benefits for your pup. That's why we added lots of
them to our
BERRY GLOW UP
Journey Up Treats!
Vitamins
Blueberries are rich in several essential vitamins, including vitamin C (ascorbic acid), vitamin K, and vitamin B6 (pyridoxine).
Minerals
Blueberries contain various minerals such as potassium, manganese, and small amounts of calcium, iron, and magnesium
.
Antioxidants
Blueberries are packed with antioxidants, including anthocyanins, quercetin, resveratrol, and other phytochemicals including flavonoids, polyphenols, and tannins. These antioxidants have various health benefits and help protect cells from oxidative damage.
Anti-inflammatory properties
Blueberries contain compounds with anti-inflammatory properties that may help alleviate joint pain and discomfort in 
dogs with conditions like joint pain 
and arthritis.
Cognitive health
Some studies suggest that the antioxidants in blueberries may support cognitive function and brain health in aging dogs, potentially reducing the risk of cognitive decline.
Fiber
1 cup of blueberries contain 4 grams of dietary fiber, which can aid in digestion and help regulate bowel movements in dogs. Fiber is also beneficial for maintaining a healthy weight. 
Nutrient Rich
Blueberries provide essential vitamins and minerals like vitamin C, vitamin K, and manganese, which can contribute to your dog's overall well-being.
GRAB A BAG AND BRING US HOME TO YOUR PUP TODAY!
Your pup will thank you today, tomorrow, and furrevah!
Sample block quote
Praesent vestibulum congue tellus at fringilla. Curabitur vitae semper sem, eu convallis est. Cras felis nunc commodo eu convallis vitae interdum non nisl. Maecenas ac est sit amet augue pharetra convallis nec danos dui.
Sample paragraph text
Cras suscipit quam et turpis eleifend vitae malesuada magna congue. Damus id ullamcorper neque. Sed vitae mid a cosmo pretium aliquet an sedo delitos. Pellentesque nulla eros accumsan quis justo at tincidunt lobortis denimes loremous. Suspendisse vestibulum lectus in lectus volutpat, ut dapibus purus pulvinar. Vestibulum sit amet auctor ipsum. Proin molestie egestas orci ac suscipit risus posuere loremous.