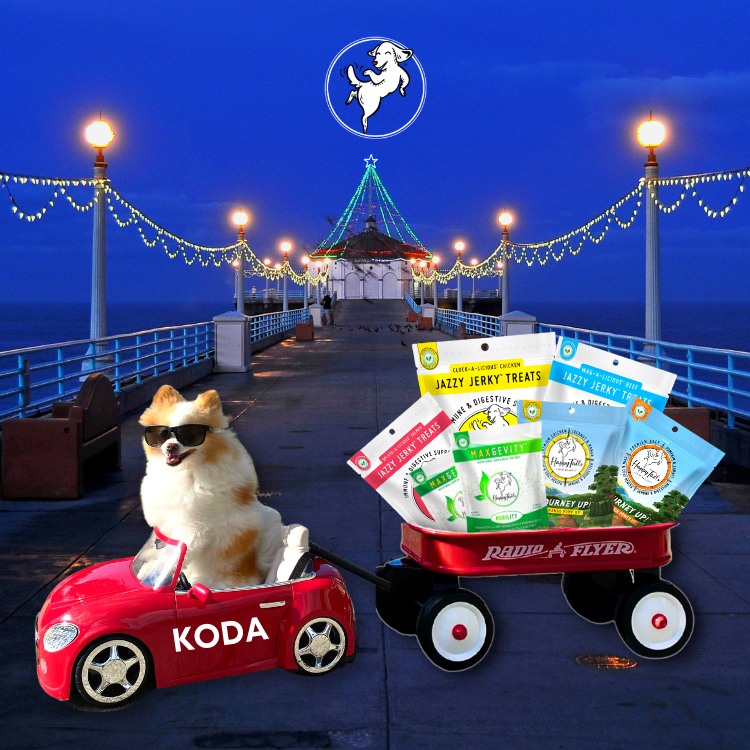 It is our great honor to name KODA THE FLUFF and her hooman mom Jena as our first HappyTails Hero!
We discovered Koda The Fluff on Facebook and could not be happier with our discovery!  Koda and Jena are making the world a happier place, one smile at a time!
Koda is a purebred Pomeranian who was born on Dec 8, 2014. Jena raised Koda since she left the breeder at 6 months old. As of June 2021, Koda is a registered Therapy Dog with Alliance Pet Therapy Organization. 
Koda got her start as a therapy dog by visiting hospitals.  Due to the COVID shutdowns she had to PAWS a bit, but she has been back in action recently visiting police stations, hospitals, schools, and facilities that serve special needs folks.
And now, Koda and her mom are taking their mission to another lever by visiting everyday work places. "We figured lots of people working everyday jobs could really use some cheering up, and smiles, so we set out to local businesses as well," shared Jena.
As Jena says, "the secret to Koda's success is 99% her awesome personality, and 1% the first trick ever learned, which was to STAY. This makes all the fun costumes, videos, and driving her car super fun and easy for her. She gets loads of treats & attention during her visits/videos and she loves it a lot."  
As our HappyTails Hero, Jena and Koda will receive a PAWsome gift box filled with our HappyTails Canine Wellness™ treats, and we cherish the opportunity to share their story.  
 We admire Jena's commitment to making our world a better place and appreciate this dynamic duo from the bottom of our fur loving toes! Congratulations Jena and Koda! 
Watch Koda in action at kodathefluff.com.
Please share your choice for our next HappyTails™ Hero at info@happytails-wellness.com. 
Sample block quote
Praesent vestibulum congue tellus at fringilla. Curabitur vitae semper sem, eu convallis est. Cras felis nunc commodo eu convallis vitae interdum non nisl. Maecenas ac est sit amet augue pharetra convallis nec danos dui.
Sample paragraph text
Cras suscipit quam et turpis eleifend vitae malesuada magna congue. Damus id ullamcorper neque. Sed vitae mid a cosmo pretium aliquet an sedo delitos. Pellentesque nulla eros accumsan quis justo at tincidunt lobortis denimes loremous. Suspendisse vestibulum lectus in lectus volutpat, ut dapibus purus pulvinar. Vestibulum sit amet auctor ipsum. Proin molestie egestas orci ac suscipit risus posuere loremous.