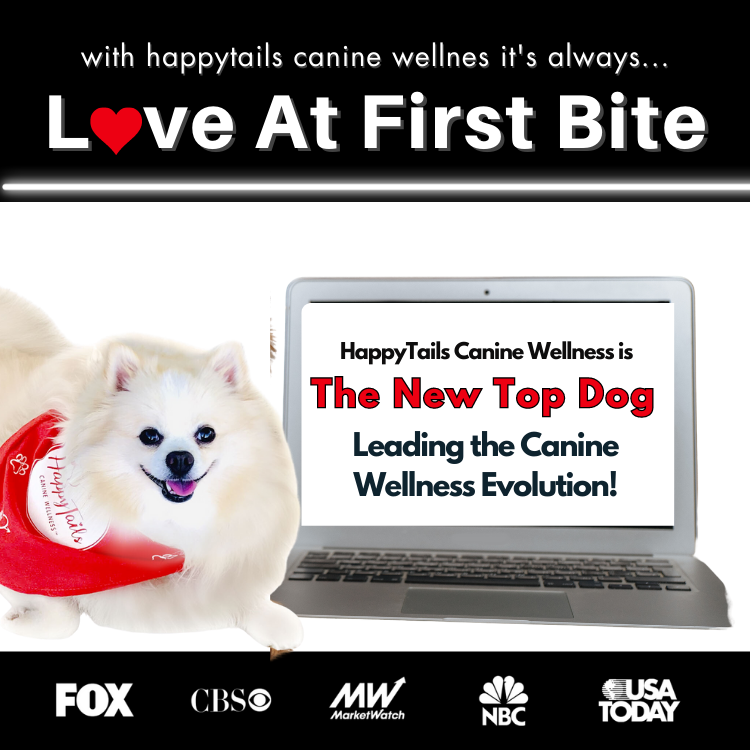 By GetNews Published December 27, 2021
Santa Clara, California – The new top dog in canine nutrition, HappyTails Canine Wellness, a division of Au Terre, Inc., is announcing the launch of their new e-commerce site, www.happytails-wellness.com, with scientifically formulated treats and supplements designed to deliver optimal canine wellness and disrupt the canine nutrition industry for the better and forever.
After discovering the importance of biotics and their impact on the canine microbiome, Founder and President of HappyTails Canine Wellness, Athena Boulgarides, was inspired to develop the concept and business plan for her vision. When she met Bob Welch in 2020, they launched their company Au Terre, Inc., and HappyTails Canine Wellness, as the first operating division of their company. Together they employed innovative product development strategies, and the latest scientific advances in canine nutrition, to develop their initial product lines. "Once in a lifetime, if you're very lucky, you have the opportunity to partner with someone with a successful track record, like Bob, who truly shares your passion" said Athena.
Bob Welch, CEO of Au Terre, Inc. shared, "I am immensely proud of Athena and her team as they launched and achieved revenue for our HappyTails Canine Wellness™ Division in less than 10 months. We know our work has just begun as we blaze new trails within the canine wellness industry!"
Best known as The New Authority in Canine Wellness the company assembled a remarkable product innovation and development team, led by Dr. Greg Sunvold, that represents over one hundred years of groundbreaking leadership in the fields of biotics, the microbiome and the pet nutrition industry. As Athena states, "Our overarching objective is clear; we are committed to continuous innovation, and to harnessing cutting edge technologies, to deliver products that promote optimal canine wellness."
Over the last decade scientific research around canine nutrition has been one of the key drivers responsible for new and innovative products within this exploding industry. Athena explained, "As research advances the case for functional digestive health ingredients in pet food, it's clear that postbiotic metabolites are considered master health-regulating compounds and comprise the new "tool kit" in promoting overall canine wellness."
The company's initial product launch includes Jazzy Jerky ® Treats
Teats and Marine Munchies. In Q1, 2022, they will launch MAXGEVITY nutritional supplements for dogs. As Athena explained, "Our nutritional supplements embody our proprietary formula called HT20+ that delivers unique functional benefits related to the symbiotic effect achieved through the combination of ingredients." Dr. Greg Sunvold, the company's Chief Canine Nutrition Scientist added, "HappyTails supplements will make ALL the difference in your dog's life."
What's more, the company's commitment to responsible, eco-friendly packaging is one they take very seriously. As Athena explained, "Our products are responsibly packaged with post-consumer recycled content which contributes to a cleaner & greener environment, for our pups, our people, and our planet."
HappyTails Canine Wellness, a division of Au Terre, Inc., is entering the pet treat and supplement markets with remarkable products, an exceptional team of experts, and an inspiring mission.
Media Contact
Company Name: HappyTails Canine Wellness a division of Au Terre, Inc.
Contact Person: Athena Boulgarides
Email: Send Email
Country: United States
Website: https://happytails-wellness.com/
Sample block quote
Praesent vestibulum congue tellus at fringilla. Curabitur vitae semper sem, eu convallis est. Cras felis nunc commodo eu convallis vitae interdum non nisl. Maecenas ac est sit amet augue pharetra convallis nec danos dui.
Sample paragraph text
Cras suscipit quam et turpis eleifend vitae malesuada magna congue. Damus id ullamcorper neque. Sed vitae mid a cosmo pretium aliquet an sedo delitos. Pellentesque nulla eros accumsan quis justo at tincidunt lobortis denimes loremous. Suspendisse vestibulum lectus in lectus volutpat, ut dapibus purus pulvinar. Vestibulum sit amet auctor ipsum. Proin molestie egestas orci ac suscipit risus posuere loremous.