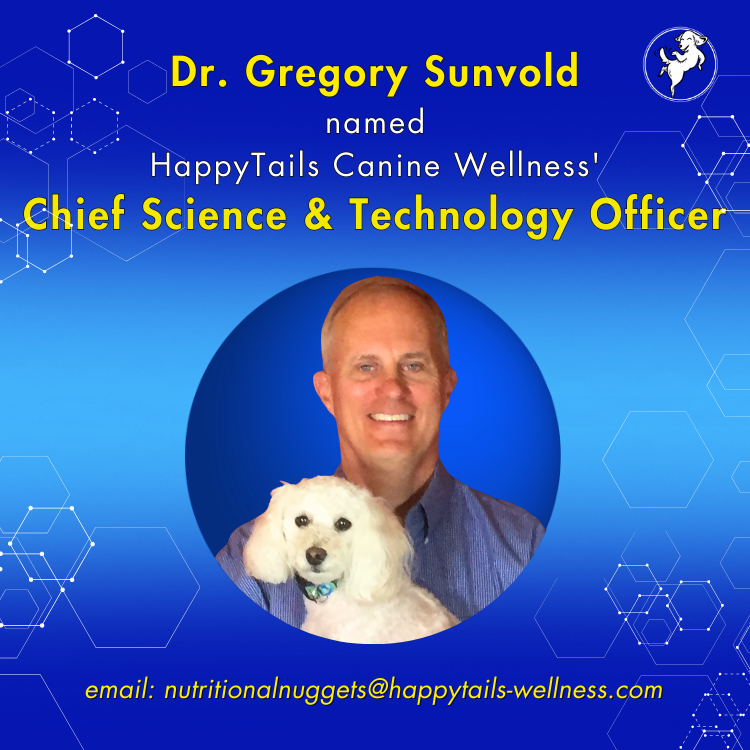 Dr. Gregory D. Sunvold Named Chief Science and Technology Officer of MaxGevity Inc.
Santa Clara, CA, April 3, 2023 -- The new Top Dog in canine wellness, HappyTails Canine Wellness, a division of MaxGevity, Inc. unleashed the exciting news today that their Product Innovation Scientist, Dr. Greg Sunvold, has joined the company's executive team as their Chief Science and Technology Officer. On his new appointment, Dr. Sunvold shared, "It's an honor to be associated with a company with such aspirational goals focused on pet health. I'm delighted to assist MaxGevity as they take their products to even greater nutritional heights to accomplish the mission of improving pet health and well-being."
MaxGevity's COO, and the Founder & President of HappyTails Canine Wellness, Athena Boulgarides, shared, "Dr. Sunvold has earned an astonishing reputation in the global pet industry as the leading expert in the microbiome. He is a respected and highly cited scholar, and an experienced pet food formulator. We are truly fortunate to benefit from Greg's leadership as we expand globally."
Dr. Sunvold has amassed over 30 years of pet food industry experience and published over 500 scientific publications, studies, and patents. After completing his thesis research on the role of fermentable fibers in dog and cat diets, and obtaining a Ph.D. in Nutritional Sciences, Dr. Sunvold spent almost 20 years at The Iams Company, Procter & Gamble pet care group.
Among his many noted accomplishments, Dr. Sunvold developed the gastrointestinal health world leadership research discipline with key research contributions involving isolating novel probiotic strains, clinically demonstrating the efficacy of prebiotics, probiotics, and other microbiome management tools, and developing novel product forms for delivering live probiotics. He then went on to consult for several companies including those active in the food stabilization / pathogen control category utilizing naturally derived biotics.
Dr. Sunvold is CEO of Sunvold Technology, LLC and founded Microbiome Health, LLC, a company focused on applying innovative microbiome technologies to pet supplements in order to improve pet health and well-being.
In his new role with MaxGevity, Dr. Sunvold will leverage his deep technical knowledge to actively identify ways to advance truly innovative pet food and treat formulations currently arising through the field of biotics. MaxGevity's CEO, Bob Welch, said, "Dr. Greg is a bright light in the pet industry! We are impressed with his brilliance & guidance, as well as his firm commitment to developing formulations that will best serve the health and wellness of our canine companions. We look forward to working even closer with Dr. Greg as we pursue our mission to become the "Global authority in pet health and wellness."
HappyTails Canine Wellness is a division of MaxGevity, Inc., Santa Clara, California.
Sample block quote
Praesent vestibulum congue tellus at fringilla. Curabitur vitae semper sem, eu convallis est. Cras felis nunc commodo eu convallis vitae interdum non nisl. Maecenas ac est sit amet augue pharetra convallis nec danos dui.
Sample paragraph text
Cras suscipit quam et turpis eleifend vitae malesuada magna congue. Damus id ullamcorper neque. Sed vitae mid a cosmo pretium aliquet an sedo delitos. Pellentesque nulla eros accumsan quis justo at tincidunt lobortis denimes loremous. Suspendisse vestibulum lectus in lectus volutpat, ut dapibus purus pulvinar. Vestibulum sit amet auctor ipsum. Proin molestie egestas orci ac suscipit risus posuere loremous.